Perth residents are fortunate to have plenty of weekend market options and good quality farmers markets in Perth can be found both north and south of the river as well as in the eastern suburbs.
You'll often find farmers markets popping up on school grounds where the market proceeds go to the school or they're run by not-for-profit organisations who support the local area.
These markets serve an important role in the community, bringing together growers and consumers by providing direct access to sustainable produce the community might not otherwise be able to find.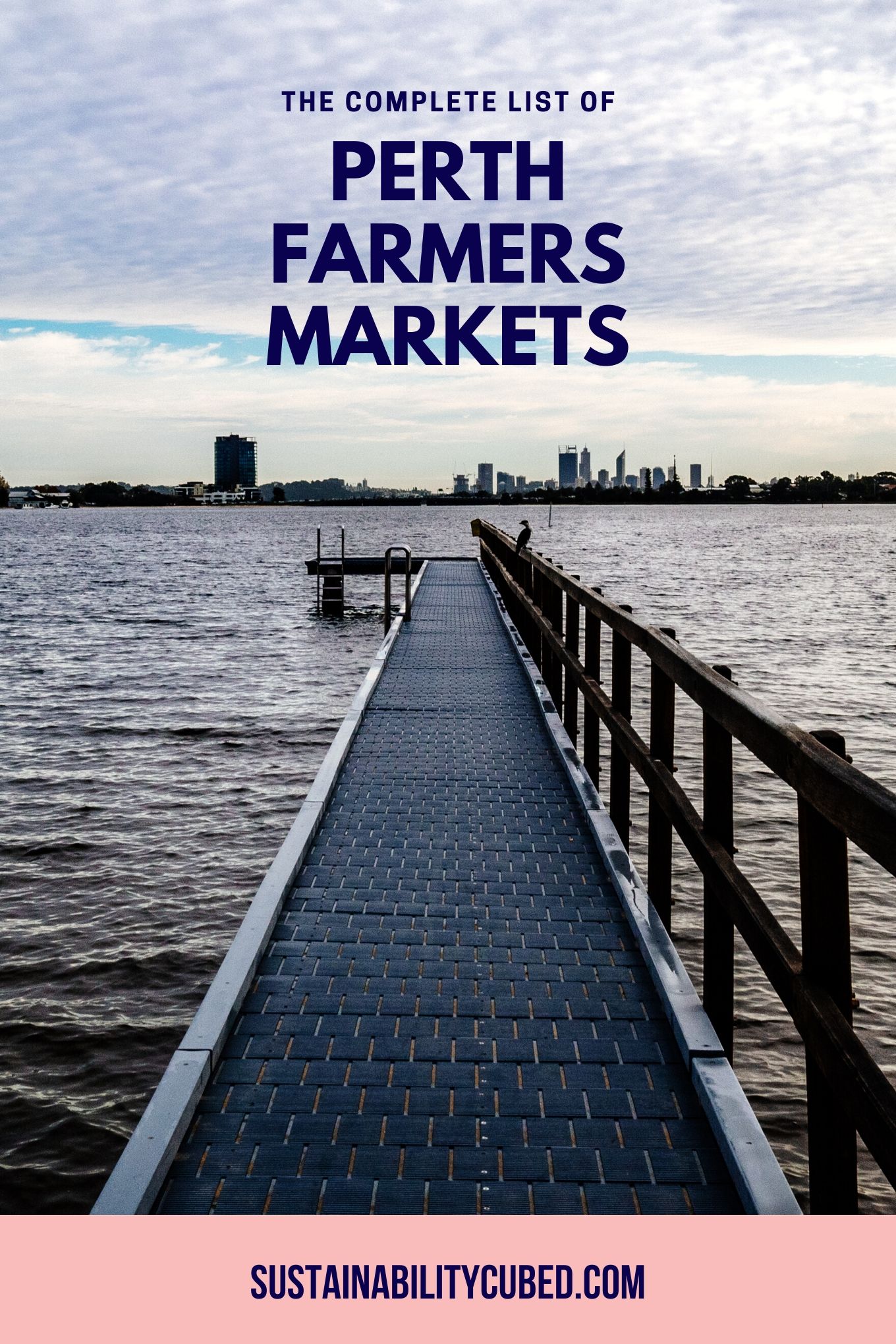 This list includes only genuine farmers markets. Fruit and veg markets which allow resellers (like the Fremantle Markets) are not included here.
As per the Australian Farmers' Markets Association guidelines, a genuine farmers market meets the following criteria:
Best practice farmers' markets are food markets where the stallholders are the farmers, their families or farm staff. Resellers are not permitted. The emphasis is placed on farm-direct and artisan-made food sales. Plants, seeds, flowers, worm farms, compost, fodder – and small livestock like poultry are also included, but craft items are typically excluded.
If you'd like to know what markets are on today or which is a nearby market, the following list of Perth farmers markets should guide you.
However, many of Perth's markets are currently closed due to COVID-19 restrictions. Please check their website or social media before visiting and follow any safety guidelines put in place to protect both customers and stallholders.
Saturday Markets Perth
Top Pick
Mount Claremont Farmers Market
One of Perth's longest running markets, Mount Claremont Farmers Market is focused on sustainable produce. Locally sourced and freshly picked organic, biodynamic and heirloom fruit and vegetables are the mainstay of the market. A large number of the stalls cater to people with special dietary requirements like plant based meals, gluten free and dairy free options. The Gluten Free Lab is popular among these. Visit the Claremont market on an empty stomach as you won't want to resist the hot food stalls serving organic breakfast, snacks and takeaway meals. Proceeds from this market support the Mount Claremont Primary School where the market is held.
Location: Mount Claremont Primary School, 103 Alfred Road, Mount Claremont
Open Saturdays 7:30am – 11:30am
Kyilla Community Farmers Market
As one of the most family friendly farmers markets in Perth, Kyilla Community Market is popular with North Perth residents and families from the northern suburbs. Along with grower direct fruit and vegetable stalls, there is a bouncy castle and animal farm for the kids (pre-COVID-19) and breakfast wraps and plenty of coffee for the parents. Proceeds from the market go to Kyilla Primary School.
Location: Kyilla Park, Clieveden Street, North Perth
Open Saturdays 8am – 11:30am
Perth City Farm Organic Growers Market
For many years, Perth City Farm has been Perth's only inner city growers market. They showcase biodynamic and organic produce as well as farmers who are in the process of becoming certified organic. Stalls are clearly marked as organic, spray-free or sustainable so you know what you're getting. You can also find eco-friendly household items like cleaning products, organic cotton clothing and baby products.
Location: 1 City Farm Place corner Lime Street, East Perth
Open every Saturday. Summer hours: 7:30am – 11:30am. Winter hours: 8am – 12pm
Poynter Farmers Market
Popular for their artisan run stalls selling WA produce like olive oil, jams and sourdough bread, Poynter Farmers Market is a fortnightly market in Duncraig. Stallholders include Guinea Grove Farm from Gin Gin and Cailo Chocolates, a bean to bar chocolate company. Proceeds go to Poynter Primary School for educational aids for the students.
Location: Poynter Primary School, Poynter Drive, Duncraig
Open every second Saturday, 9am – 12 noon.
Farmers Market on Manning
The Manning market is a large grower direct market with more than 80 stalls. Along with the regular fruit, veg, meat and seafood stalls, you can find entertaining live music, specialty coffee and food inspired from the world including Germany, Turkey, France and Greece. There are local artisan stalls selling natural skincare, sustainable kitchenware, handmade nut butter, cheese, eggs, olives and so much more. Farmers Market on Manning is truly a one-stop market. The highlight of the market is Scone Crazy, known for its mix of traditional and vegan scones.
Location: George Burnett Park, Corner of Manning Road and Elderfield Road, Karawara
Open Saturdays 7:30am – 12:30pm
Subi Farmers Market
Subiaco Farmers Market's objective is to support a healthy and sustainable lifestyle while supporting WA farmers and producers. The market is a not-for-profit organisation with proceeds going to Subiaco Primary School. Previously located at the school, the market is currently held at the Earthwise Community in a slimmed-down capacity. Stallholders include Over The Moon Organics, Saki Soaps, Strange Grains Gluten Free Bakery, Laterite Ridge free range eggs, and Honey I'm Home produce.
Location: Earthwise Community, 315 Bagot Road, Subiaco
Open Saturdays 8am – 12pm
Sunday Markets Perth
Freo Farmers Market
Freo Farmers Market is a plastic free market supporting WA farmers, local artisanal producers, small businesses and community groups. Along with selling high quality seasonal produce, the market is also a popular community event where friends and families gather for breakfast and picnics on the grass. Stallholders include Wild Bakery, Pemberton Butter, Hilton Harvest, The Gluten Free Lab, Freo Bike (electric bike conversions) and Tom the Greek. There is an animal farm and craft workshops (pre-COVID-19) plus live music. The Freo Farmers Market is one of the most popular regular community events in the Fremantle area. Freo Farmers Market was previously known as the Growers Green Farmers Market.
Location: Fremantle College, 151 Lefroy Road, Beaconsfield
Open every Sunday, 8am – 12 noon
Stirling Farmers Market
Stirling market has a mix of permanent and seasonal growers and producers from WA. Favourites include butter from Homemade Kitchen, Dog's Dinner (organic dog food), Red Gill Fish and Granola Girls granola. At the end of every market day, leftover fresh produce is donated to Passages Resource Centre, a service for homeless young people. The market is run by the Rotary Club of Karrinyup.
Location: Council Carpark, 25 Cedric Street, Stirling
Open Sundays 7:30am – 11:30am
Kalamunda Farmers Market
Take a Sunday drive to the hills to pick up organic produce from the Kalamunda Farmers Market. There's plenty of seasonal produce available with many of the stallholders being local to Kalamunda and the hills region. During summer you'll also find the Kalamunda Night Market for more local food options. Both markets are run by the Kalamunda Chamber of Commerce.
Location: Kalamunda Performing Arts Centre Carpark, 48 Canning Road, Kalamunda
Open every Sunday, 8am to 12 noon
Vic Park Farmers Market
The Vic Park Market is relatively new and now being run by Heart Inspired Events (along with the Palmyra market). It's still a small market but will hopefully grow as more people become aware and show their support. Profits from the market go to Victoria Park Primary School.
Location: John MacMillan Park, Kent Street, East Victoria Park
Open Sundays from 8am – 12 noon
Palmyra Western Farmers Market
The Western Farmers Market is a genuine growers market, focusing on farm gate to customer direct produce. Proceeds from the market go towards Palmyra Primary School's Kitchen Garden Program which educates students on growing and cooking seasonal produce.
The small but well-loved Palmyra Farmers Market has been forced to close its doors due to COVID-19 but hopes to reopen in the future.
Location: Palmyra Primary School, McKimmie Road, Palmyra
Open Sundays 8am – 12 noon
Perth Home Grown
Also worth a mention is Perth Home Grown. It's not a farmers market but a sustainable living market, filled with unique homemade gifts, homewares, baked goods and fresh fruit and vegetables. It's the only sustainable weekend market open during the afternoon. Entry is free.
Location: Murray Street Mall, Perth CBD
Open Sundays 11am to 4pm
You can find more farmers markets in Perth by searching the Australian Farmers' Markets Association list.