The Kingdom of Tonga is a Pacific Island nation consisting of an archipelago of 172 islands located east and southeast of Fiji with a population of 100,651 living on 36 of those islands. Low-lying island nations like Tonga are particularly vulnerable to climate change impacts including sea level rise, coastal destruction and increasing frequency, intensity and variability of extreme climate events. While Tonga and its neighbouring small island developing states contribute less than one per cent of global greenhouse gas emissions, they are among the first countries to experience climate change impacts and risks to economies, ecosystems and communities.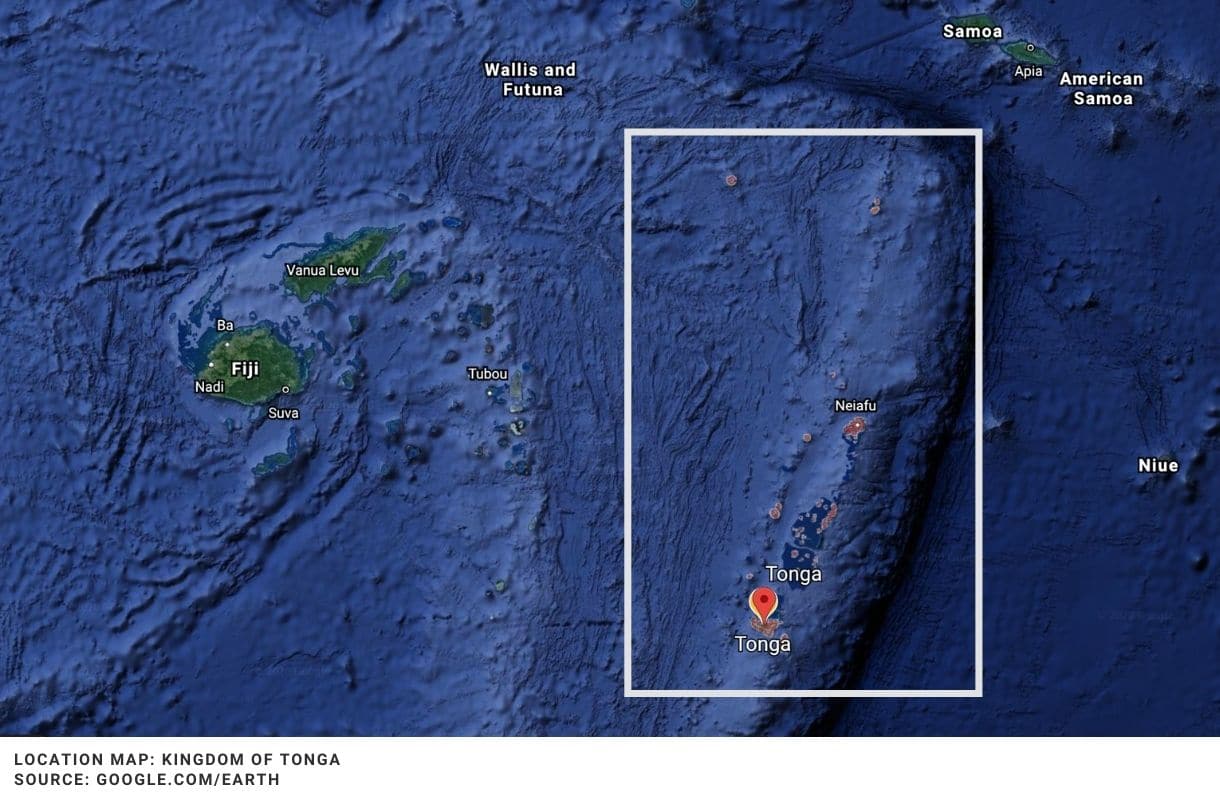 This report evaluates the impact of climate change on Tonga including increases in air and ocean temperatures, rises in the occurrence of hot days, ocean acidification, unpredictable precipitation, increased intensity of tropical cyclones as well as sea level rise. Economic consequences, diminished livelihoods, the degradation of natural ecosystems, adverse health impacts and potential community displacement is discussed along with assistance the international community can provide to facilitate adaptation to climate change.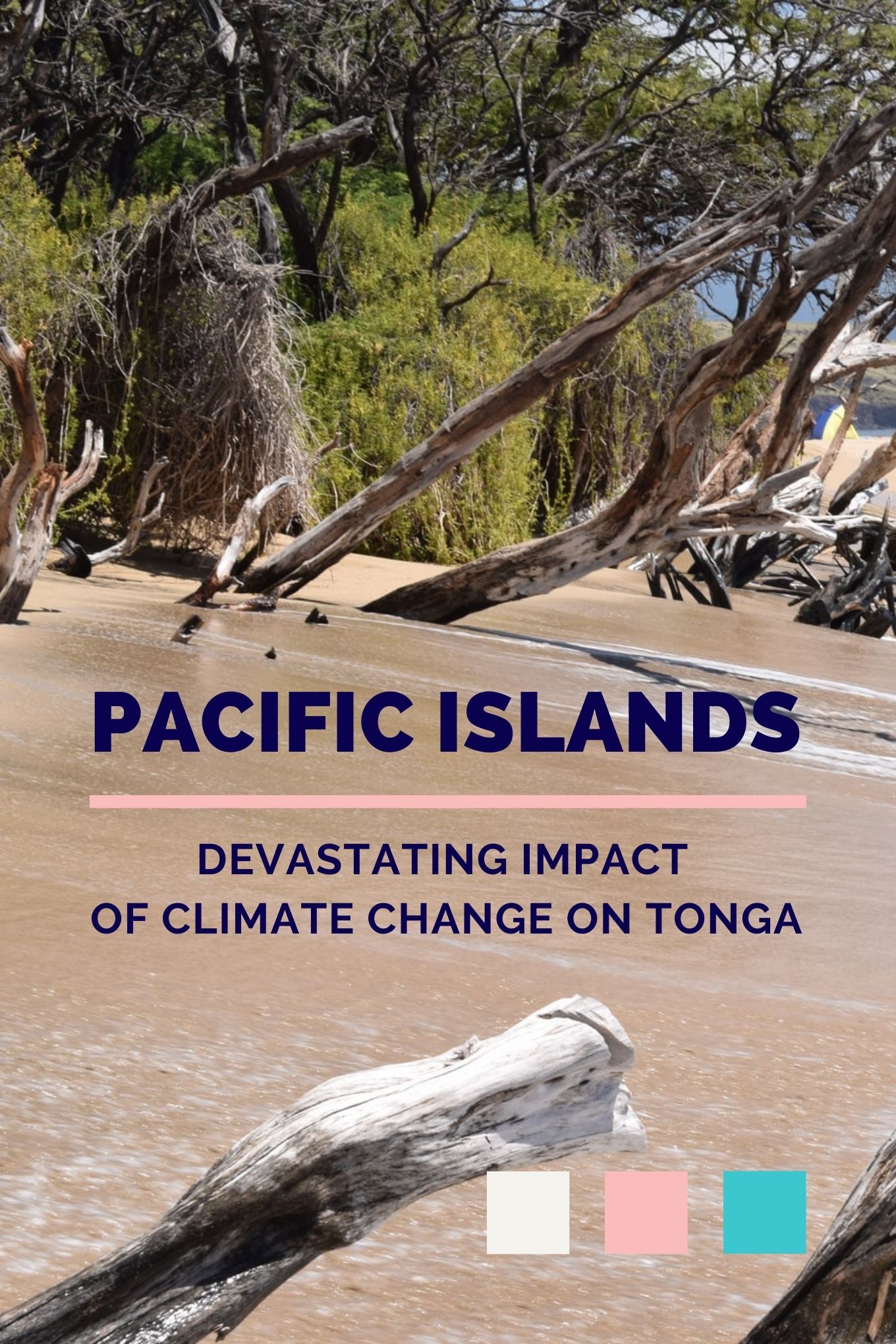 Pacific Islands: Tonga Case Study
Impact on the Economy and Livelihoods
As is common in small island developing nations, Tonga lacks the economies of scale and stability that comes with the economic diversity present in larger, developed countries as Tonga's economic activity is heavily dominated by a small number of sectors. The dependence on agricultural crops, fisheries and tourism, industries which are all climate-sensitive, means adaptation is essential to maintain livelihoods and economic wellbeing but this is difficult to achieve due to the high costs associated with adaptation. Global warming is expected to cause irreversible loss of natural marine resources, depleting fisheries, reducing food security and threatening livelihoods. Coral reef degradation and diminished marine habitat will reduce economic productivity in Tonga with subsistence fishing activity and beach and reef-based tourism being highly affected. Reduced tourism is projected to greatly compromise economic output and livelihoods as it is one of Tonga's primary exports and an important sector for employment, especially for younger populations facing limited employment opportunities.
Impact on the Coast and Natural Ecosystems
Climate change impacts most facets of life in Tonga with sea level rise, tropical cyclone intensity, ocean acidification and increases in air and sea surface temperatures being priority concerns.
Sea Level Rise
Global warming from greenhouse gas emissions will persist for centuries and will continue to cause long-term sea level rise, continuing well beyond 2100. Low-lying coastal areas of small islands are particularly exposed and threatened by sea level rise with increased risk of saltwater intrusion, flooding and damage to human and built environments. Data suggests sea level rise near Tonga has increased by around 6 mm per year since 1993, approximately double the global average, and is projected to rise by a further 8-18 cm by 2030 under a very high emissions scenario. Figure 2 shows the projected impact of 80 cm sea level rise on Tongatapu, the main inhabited island in Tonga compared to current sea levels. Sea level rise combined with expected increased tropical cyclone intensity and precipitation will exacerbate extreme sea level events and coastal degradation. Saltwater intrusion reduces estuarine habitats, redistributes associated species and will degrade groundwater resources. Tonga is heavily reliant on groundwater for human and agricultural use with water quality being adversely impacted by increased salinity as a consequence of sea level rise.
Tropical Cyclone Intensity
While Tonga is projected to experience decreased frequencies of tropical cyclones, their magnitude is likely to be heightened with increases in maximum wind speed of up to 11% and an increase in precipitation of approximately 20%. Figure 3 shows examples of potential cascading effects of tropical cyclones on small islands and the interconnectivity between coastal morphology, natural ecosystems, livelihoods and infrastructure. The cost of damage caused by tropical cyclones has a disproportionate impact on small developing nations as the impact on the nation's gross domestic product is relatively high compared to a similar event in a larger country which would affect a smaller proportion of the population and economy.
Ocean Acidification and Warming
Rising CO2 levels and increasing global temperatures are driving significant change to our oceans, specifically ocean warming, acidification and sea level rise which is predicted to produce numerous negative consequences.
The occurrence of coral bleaching events is on the rise with the expectation all coral reefs will be impacted by 2050. In the Tonga region, ocean acidification is expected to continue to increase resulting in adverse impacts on its coral reef ecosystems which are likely to be exacerbated by coral bleaching events, storm damage and overfishing. While discussions on ocean acidification often centre on the impact on coral reef systems, the impacts are in fact complex and widespread and often cumulative and cascading. Along with coral reef damage, ocean warming also impacts micro-organisms, plankton, seaweed, mangroves, fish, seabirds, turtles and marine mammals.
Biodiversity Loss
Biodiversity conservation is a significant concern for small island nations like Tonga where there is considerable risk to terrestrial and marine biodiversity, specifically the loss of fish abundance and coral reef ecosystems caused by ocean acidification and warming and this loss may occur as soon as 2030. Mangrove ecosystems are important to reduce erosion and sea water intrusion by countering the impacts of sea level rise and storm surge as well as being an important carbon sink. However, global warming has caused significant losses in mangroves, resulting in diminished habitat for dependent flora and fauna and therefore a loss of biodiversity has occurred in Tonga. While it is difficult to predict the response of specific ecosystems to anthropogenic climate change, biodiversity loss is expected to be more pronounced with proximity to sea level. Coral reef and marine ecosystems, beaches, mangroves, estuarine and freshwater ecosystems are at high risk of loss or damage, all of which are critical ecosystems in Tonga. Climate change is contributing to a homogenisation of biodiversity as local species become extinct and are replaced by more robust invasive species.
Impact on Health and the Community
The impact of climate change on health is often overlooked but is a critical component to sustainable adaptation and the physical and mental wellbeing of affected communities. Climate change adversely affects health in three main aspects: the depletion and degradation of natural resources directly impacts the physical environment and accessibility of diverse ecosystem services; social impacts include access to adequate housing, essential sanitation, satisfactory nutrition and resulting increases in mental health problems; susceptibility to communicable and non-communicable diseases as well as natural hazards. Tonga faces increased future risks of physical and psychological trauma caused by extreme events like tropical cyclones and increased occurrence of hot days, environmental disruption is projected to lead to a rise in vector-borne diseases and there is a significant risk of increased mental health issues caused by injuries and death, loss of livelihood, reduced access to food and water and a perceived or actual loss of culture and sense of community. Climate-induced migration resulting from decreased food and water security and threatened livelihoods may contribute to increased internal and international conflicts.
Impact on Settlements and Infrastructure
Coastal communities are susceptible to natural hazards including tropical cyclones, sea level rise, storm surge and flooding, placing housing, public facilities, transport and other infrastructure at risk of damage or loss. Exposure of settlements and infrastructure to tropical cyclones is growing due to increased coastal development as a consequence of beach and reef tourism.
International Community Support
Paris Agreement and Climate Mitigation
Strengthening the global response to climate change is necessary to lessen impacts on Tonga by limiting global warming to 1.5oC above pre-industrial levels while an acceleration of climate mitigation across all industries would reduce climate-related risks in the future. The Paris Agreement of 2015 obliges developed countries to assist developing nations like Tonga to build resilience by providing technical and human skills, financial resources and organisational support for climate action in the Pacific Islands. However, the Paris Agreement is insufficient to limit the damage to vulnerable countries, therefore, it is essential to set legally binding emission reduction targets and secure financial commitments for climate adaptation in the Pacific Islands.
Economic and Financial Resources
Insufficient financial resources is a significant barrier to implementing climate change adaptation strategies and funding climate induced relocation. The United Nations Framework Convention on Climate Change is an international environment treaty which, in conjunction with the Paris Agreement, requires developed nations to provide financial assistance, and potentially compensation, to fund adaptation measures for the least developed countries. The cost of community relocation should be provided by international adaptation financing agreements and not by individuals or impacted governments. While multilateral funds have been created to provide financing, these organisations require more adequate funding and accessible disbursement options.
Research Gaps
Small island climate adaptation research has focused on developing states which have been recognised as hotspots of climate change and this research has played a crucial role in determining and acknowledging island vulnerability. However, there is a lack of detailed knowledge surrounding risk, adaptation and opportunities for distinct islands, in particular among states consisting of diverse archipelagic islands such as Tonga. More comprehensive research would enhance understanding of the issues, specifically in under-researched areas like climate-related health risks, loss of settlements and the economic impact of ecosystem decline. Regional organisations and locally-based researchers are in the best position to determine these issues and record case studies for the purpose of developing technical and human skills to address the issues.
Technical Assistance and Human Skills
Monitoring and data analysis are ongoing problems in Tonga due to a lack of adequately trained individuals and agencies which are needed to assess vulnerability and manage natural resources and fragile ecosystems. Assistance in monitoring and preventing biodiversity loss, controlling pests and diseases, noting and projecting losses in agriculture, fisheries and infrastructure, as well as the regulation of ecosystem services, is needed. The international community could provide assistance in the form of monitoring equipment, personnel training and access to transport.
Education and Communication
Access to education and information designed to raise community awareness of the adverse impacts of climate change and enhance understanding of necessary adaptation efforts, as well as the social and environmental benefits of both individual and community contributions, needs to be improved and expanded. The provision of community training in the recognition and implementation of sustainable strategies and initiatives should be prioritised. Understanding information and risk is vital, in particular regarding preparedness for tropical cyclones and how to interpret and respond to government-issued communications and warnings. International financial resources could support the provision of education campaigns and the availability of information.
Community Displacement
As low-lying islands are at risk of becoming uninhabitable in the future, international trade agreements are needed to facilitate mobility and migration.
Planned or forced relocation or migration of communities is regarded as an adaptation by many in the Pacific which will require negotiation with the international community to achieve desirable outcomes. Labour mobility including seasonal labour agreements with countries including Australia and New Zealand will provide legal and social recognition to migrants and continued livelihoods for those facing climate risks as well as generating remittances to provide for communities remaining in Tonga. Environmental caused relocation will also be necessary within Tonga, either within a local community or relocation elsewhere in Tonga to more resilient locations. The international community could provide support for these relocations in the form of financial, legal or infrastructure assistance.
Conclusion
Tonga is one of the first countries to experience the adverse effects of climate change and is vulnerable to future risks. The most critical impacts are related to sea level rise, coral reef degradation, coastal erosion, food and water security, damage to infrastructure and loss of economic opportunities. Without a significant international response to climate change mitigation, in particular from developed nations, global warming will have increasingly adverse impacts on the social, environmental and economic future of Tonga. Policy interventions, international agreements and global climate mitigation actions need to be accelerated to lessen the impact of change on Tonga. Without burden sharing and adaptation assistance, along with enforced commitments to emission reduction targets, Tonga and the Pacific Islands face considerable instability and significant community displacement and disruption.