There is a real and important movement away from paraffin wax towards non-toxic sustainable candles. This came about after research was published showing commercial paraffin wax candles emit environmental pollutants when burnt that can include formaldehyde, lead (not in the US), other carcinogenic compounds and harmful particulate matter.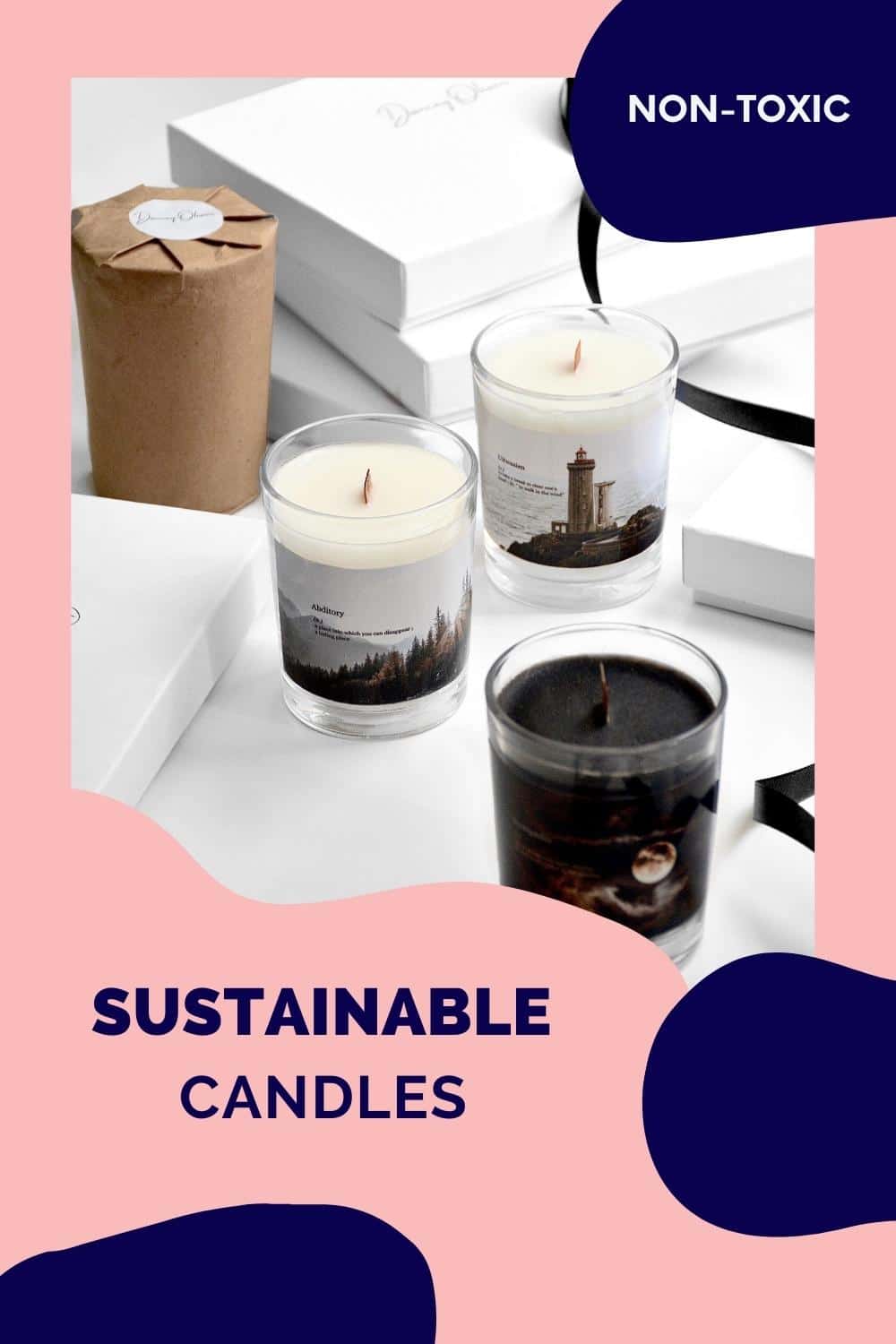 Sustainable Candles
Research from 2022 showed that burning paraffin wax candles was the largest contributor to indoor black carbon pollution.
A healthier alternative is soy candles, or soy wax candles as they are sometimes called, ie those made using soybean oil extract. These have been shown to be considerably safer and more eco-friendly.
Can Candles be Non-Toxic?
If you take non-toxic to mean harmless or safe to breathe, then I wouldn't say that is true.
While soy wax candles are healthier candles, they aren't completely non-toxic.
Smoke and fine particulate matter are harmful to our health and even low-smoke candles can contribute to indoor air pollution.
The risk with candles is minimised (but not eliminated) by burning them in a well-ventilated space.
Keep a window open when burning candles and avoid burning them in small, enclosed spaces like bathrooms.
A potentially bigger issue is that paraffin wax is a by-product of petroleum production, meaning it is derived from fossil fuels, the most significant cause of climate change. Purchasing products with paraffin wax is indirectly supporting fossil fuel companies.
What to look for in a sustainable candle
We recommend sourcing sustainable candles from the companies or brands mentioned below. In general, look for candles that include some or all of the following ingredients or features:
Plant-based (vegan).
Pure beeswax candles.
Organic ingredients.
Locally sourced ingredients.
Clean burning wicks (for reduced soot).
Cruelty-free.
Reusable candle containers.
Plastic-free packaging.
Also, consider purchasing longer-burning candles. This way you would need fewer candles for the same result and ultimate fewer resources (jars, transport) would be required.
Be aware of greenwashing
Some sellers make a point of marketing their candles as lead-free.
Lead wicks have been banned in the United States since the 1970s and can't be imported so all candles available in the US are lead-free.
It's greenwashing to suggest this is an eco-friendly or non-toxic attribute.
Top Pick
Kanobi Candle Co.*
These beautiful, minimalist and sustainable candles are handmade in Astoria, Oregon. All their candles are made with 100% soy wax and 100% cotton wicks. They are vegan, cruelty-free and sustainably packaged. They are hand-poured into amber-coloured jars with a metal lid that can be used to smother the flame. The 55-hour burn time makes it a good value candle and popular scents include California Dreaming, Rainforest and Get Naked.
Hemlock Park*
Handcrafted in small batches by a California-based small business, these stunning candles are made with coconut wax and wood wicks. All Hemlock Park candles are vegan and cruelty-free and are produced using natural and sustainable plants, herbs and flowers and organic essential oils. Scents include Bergamot Cedar, Blood Orange Sage, Eucalyptus Mint, Genovese Basil and Oakmoss.
CoCo Benjamin*
CoCo Benjamin produces one of the most popular and highly-rated soy candles in their Basil, Lime & Mandarin candle. This hand-poured candle is vegan, cruelty-free, phthalate-free, and petroleum-free, as are all of the company's candles. Their focus is on sustainability, ethical production and creating a quality handcrafted product. The reviews are excellent, especially concerning the quality and longevity of the scent.
Brooklyn Candle Studio*
Brooklyn Candle Studio produces beautiful handmade, minimalistic designed candles that are eco-friendly and sustainable. The wax is 100% derived from American-grown soy beans meaning they are petroleum-free and 100% vegan. The most popular scent is the Santorini Escapist which has fruity aromas of fig and currents. The company promotes this as a 70-hour candle.
Benevolence Los Angeles*
Benevolence LA produces a wide selection of candles that are eco-friendly and sustainably produced. They are made using 100% soy wax (not a blend) with calming essential oils. They are low-toxic, relatively clean-burning candles thanks to the use of wooden wick candles. The gold packaging makes for an elegant candle that can be reused once finished. Benevolence donates to the Zoe International charity for every candle purchased as well as from purchases from the brand's pretty matchstick range. Their most popular fragrance is Eucalyptus & Orange.
HHI Candles*
HHI is another hugely popular sustainable candle company, especially thanks to their Coconut Lime scented candle. The candles are made from soy wax in a glass jar and bamboo lid. You can choose from an eight-ounce single wick and a twelve-ounce three-wick candle. The glass jar can be reused once the candle is burnt.
Mia's Co*
Mia's Co produces prettily designed, eco-friendly candles using a soy wax blend without paraffin. Their lovely fragrances include Grapefruit, Lemon Tea, Ocean Rose and Tepid which is scented with jasmine, lily and hawthorn. These candles are handmade in Los Angeles, so this brand is a good option if you live on the west coast of the US.
For more sustainable home decor ideas, read our guide to sustainable products and transitioning to a zero waste lifestyle. Please shop responsibly and limit non-essential purchases.
Are candles sustainable?
Candles are interesting to look at from a sustainability viewpoint. The range of plant-based and soy-type candles that are mentioned here can be considered sustainable in much of their production.
By buying these candles you're supporting local small business brands (if you're North American based).
The products use quality ingredients and the packaging is often reusable or recyclable.
But given the importance of reducing our consumption to address climate change, candles are a non-essential item that we can easily do without.
By purchasing non-essentials you're contributing to potentially unnecessary resource use that does contribute to greenhouse gas emissions.
However, it's up to each individual to determine where they reduce their consumption. You might love candles but rarely buy new clothes for example. Or you might be buying candles as an occasional gift for a loved one.
Everyone has different priorities and that's completely fine. But it's always nice to pause before hitting the buy button to be sure this is something we really need or would like.
If you do decide to buy, I hope you enjoy your candle! Some of the scents are lovely and I do enjoy burning the occasional candle myself. It's one of life's small pleasures.
Sources

Aquilina, N. J., & Camilleri, S. F. (2022). Impact of daily household activities on indoor PM2.5 and Black Carbon concentrations in Malta. Building and Environment, 207, 108422.

Elizabeth, O., Olanipekun, O., & Obanla, O. (2019). Production of Candle from Oil Extract of a Legume – Soybean. 9, 5568-5574.