It's great that people are becoming more aware of the environmental degradation of the world's coral reefs. Reefs are an important source of food, fishing, tourism and coastal protection for many communities, in particular, small island nations.
Repeated severe coral bleaching events are causing the coral to die and it's getting worse. The scientific evidence is unequivocal, coral bleaching is caused by climate change.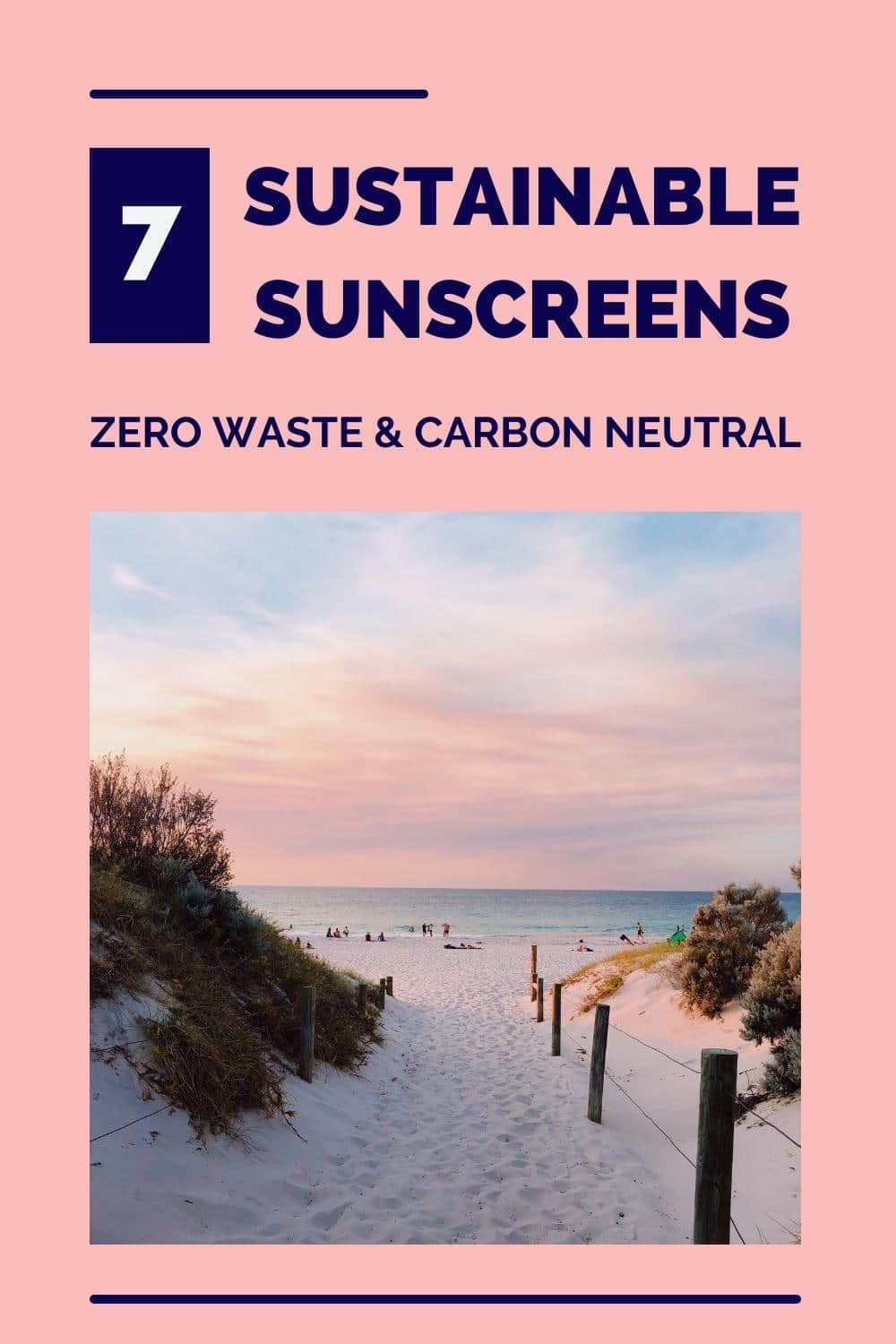 So why all the hype about reef safe sunscreen? Is this a distraction from taking action against climate change? Should we be looking at zero waste or sustainable sunscreen instead?
Several years ago, a couple of research reports came out showing damage to coral when exposed to high levels of sunscreen in a lab. This information spread widely and lead to the creation of supposedly reef safe sunscreens that are then marketed as eco-friendly products.
If you listen to coral reef scientists, they will tell you that there is no evidence of sunscreen damaging coral in nature. A lab is not equal to the real world.
I wrote about this previously, but at this stage, it looks like reef safe sunscreen is greenwashing.
If you're concerned about the impact of sunscreen on human health, I discuss that below. But in short, the science is contested, generally due to a lack of long-term research.
However, it may be worth avoiding certain chemical ingredients until further research becomes available.
Mineral sunscreens often avoid the most controversial ingredients.
Mineral in this context refers to titanium or zinc oxide-based sunscreens and they are generally better for people with sensitive skin or allergies. These are often referred to as sunblock or physical sunscreen.
The downside of mineral sunscreens is that they often feel thick and unpleasant on the skin, especially on the face.
Sustainable Sunscreen
While we await further research, I prefer to focus on zero waste or low waste and sustainable sunscreen instead.
These are low-carbon or plastic-free products that give effective sun protection and they are generally mineral-based, with zinc oxide being the most popular active ingredient.
My recommendations for the best sunscreens and the selection criteria used are below.
Top Pick
Raw Elements Face and Body Sunscreen – SPF 30*
Raw Elements is one of the most popular sunscreen brands available right now and this certified natural sunscreen in particular is hugely popular. The ingredients are 95% organic with non-nano zinc oxide being the active ingredient. The SPF 30 provides good sun protection and given it's water-resistant for 80 minutes, it's a good option for when you're at the beach or being active outdoors.
As for sustainability features, the sunscreen is cruelty-free, titanium oxide free, biodegradable and it's sold in a reusable, recyclable, plastic-free tin. The range is huge so there's something for everyone including a daily lotion sunscreen that is great under makeup, tinted sunscreens and a complete range for kids.
Raw Elements are based in California but you can find them in stores throughout the US. The small business is Leaping Bunny certified and they donate to the 1% for the Planet. They offer a range of completely zero waste sunscreens too.
All Good Face Sunscreen Butter – SPF 50*
All Good is one of the most highly-rated and most popular sustainable sunscreen brands. They offer a protective, zinc oxide-based sunscreen that comes in a portable, reusable tin. As a zinc sunscreen butter that includes beeswax, it is quite thick to apply although you can apply in a thin layer and then reapply it more often. The sunscreen butter is a great option for when you're swimming or taking part in active sports like surfing or snowboarding as it provides high protection and is long-lasting. All Good is a certified B-Corp and they take part in the 1% for the Planet Program. Importantly, they are climate-neutral certified. This is one of the most sustainable body care brands in the US and they stock a huge range of sunscreens, not only this popular sunscreen butter.
Coola Organic Face Sunscreen – SPF 50*
If you're looking for a dedicated face sunscreen Coola is one of the best brands. Coola is based in Carlsbad, California but is widely available. Although the organic face sunscreen is SPF 50, it's a lightweight cream that works well under makeup. It's available in the white tea scent or you can choose a fragrance-free option if you prefer. Coola is transparent regarding its sustainability efforts. Ingredients are sourced locally from low-impact suppliers where possible. They limit plastic by using sugar cane-based packaging for the products along with recyclable cardboard. Also, they openly say their products are 75% recyclable right now and are targeting 100% recyclable containers by 2023. It's great to see companies setting near-term sustainability targets.
Thrive Natural Body Mineral Sunscreen – SPF 50*
This zinc oxide-based water-resistant, broad-spectrum sunscreen comes in a plant-based recyclable tube. There is a limited white cast which makes it nice for everyday use. The product is made in the USA making it a good eco-friendly option if you live in that region although some of the ingredients originate from Costa Rica. Description: A natural vegan sunscreen that is cruelty-free, PABA-free, with no synthetic colours, fragrances or ingredients. Sustainability: Thrive's business model and supply chain are designed to help Costa Rican farmers restore degraded soil on their land and improve their livelihood. They do this by using regenerative agriculture methods, an increasingly important environmentally-friendly form of agriculture.
MANDA Organic Sun Creme – SPF 50*
This sun creme is a more traditional sunscreen than Manda's sun paste (see below). It's also a physical barrier type sunscreen that uses zinc oxide as the main ingredient but it's easier to apply and works well on the face along with the body. The packaging is sugar cane-based and can be recycled. If you prefer to purchase locally, Manda products are often available at surf shops and some sports stores. Manda is a California-based small business.
EiR NYC Non-Nanoparticles Sunscreen – SPF 50*
EiR NYC is one of the few brands that actively promote sunscreen without nanoparticles. This refers to titanium dioxide (TiO2) nanoparticles that are sometimes included in sunscreens and that potentially have negative consequences for environmental and human health. EiR is also one of the few solid sunscreens, which is basically a stick-form balm sunscreen that you can rub on your skin. The active ingredient is zinc oxide and provides full-spectrum protection at SPF 50. An additional ingredient is beeswax which is designed to provide a barrier to make the sunscreen water repellent. However, due to the beeswax, the product is not vegan but it is cruelty-free.
MANDA Organic Sun Paste – SPF 50*
Manda offers a few different sunscreens but this one is quite unique in that is a sunscreen paste. It is designed specifically for active users who are playing sports, surfing, hiking, running or other vigorous outdoor activities that require reliable sun protection. As a paste, you can apply it in either a thick or thin layer depending on the activity. The active ingredient is non-nano zinc oxide and most of the other ingredients are certified organic. The packaging is made from recyclable or reusable tin and bamboo. Due to the thick nature of the paste, it's not a great choice for under makeup.
Refillable Sunscreen
A more sustainable alternative to purchasing online is to buy your sunscreen locally from a bulk goods store near you. You can take your own reusable, refillable container and buy your sunscreen in bulk.
In this case, you would be limiting transport emissions while also supporting a local business and potentially saving money.
Some large supermarket chains also have refill stations but this varies considerably by location.
Selection Criteria
When recommending sustainable sunscreen, I look for products that meet at least three of the following criteria.
Carbon neutral or low-carbon. Climate change is caused by greenhouse gas emissions. Buying from low emissions companies is important.
Plastic-free. The majority of plastic is derived from fossil fuels. We should avoid them wherever possible.
Cruelty-free. There really is no need for testing on animals. I only recommend cruelty-free sunscreens.
Circularity. This is where products are reused or recycled for as long as possible with the goal of eliminating waste. This is generally difficult to find but is becoming increasingly common.
Sustainable packaging. Packaging that can be reused, recycled, composted or biodegradable.
Locally sourced. If you can find it locally, you can reduce transport emissions.
This article is part of our series on sustainable products. These are items that are produced in a way with limited environmental impact. Please shop responsibly.
Sunscreen and Human Health
As with the case of impacts on coral reefs, the impact of sunscreen on human health is also controversial. Some research has shown that some sunscreen ingredients may have endocrine-disrupting effects whereas recent reviews have shown the research to be weak.
However, this is a case where the precautionary principle applies, meaning you might want to avoid certain sunscreens, just in case there is an issue, even though the evidence is contested.
But it's worth noting that all personal care products pose a certain amount of risk, even natural and organic products.
Saving Our Coral Reefs
If sunscreen is not this issue, then how do we protect coral reef ecosystems?
At this point in time, the world has warmed by 1.25°C above pre-industrial levels. Coral reefs are unlikely to survive at 1.5°C of warming and it's virtually impossible that any will survive at 2°C.
The chances are about 50/50 that we can keep warming to 1.5°C.
We must urgently act to end our use of fossil fuels and limit all greenhouse gas emissions including carbon dioxide, methane and nitrous oxide and prevent further deforestation.
A general overview of what we can do as individuals and households is outlined in my guide to being sustainable at home.
For scientific information, you can read the IPCC reports listed below.
What is the IPCC? The IPCC is part of the United Nations and its function is to assess the science related to climate change. It's the ultimate scientific collaboration and an organisation we should all follow and understand.
Sources

IPCC. (2019). Summary for Policymakers. In: IPCC Special Report on the Ocean and Cryosphere in a Changing Climate [H.-O. Pörtner, D.C. Roberts, V. Masson-Delmotte, P. Zhai, M. Tignor, E. Poloczanska, K. Mintenbeck, A. Alegría, M. Nicolai, A. Okem, J. Petzold, B. Rama, N.M. Weyer (eds.)]. In press.

IPCC. (2022) Summary for Policymakers. In: Climate Change 2022: Mitigation of Climate Change. Contribution of Working Group III to the Sixth Assessment Report of the Intergovernmental Panel on Climate Change [P.R. Shukla, J. Skea, R. Slade, A. Al Khourdajie, R. van Diemen, D. McCollum, M. Pathak, S. Some, P. Vyas, R. Fradera, M. Belkacemi, A. Hasija, G. Lisboa, S. Luz, J. Malley, (eds.)]. Cambridge University Press, Cambridge, UK and New York, NY, USA.

Matthews, H. D., & Wynes, S. (2022). Current global efforts are insufficient to limit warming to 1.5°C. Science, 376(6600), 1404-1409.

Sharma, S., Sharma, R. K., Gaur, K., Cátala Torres, J. F., Loza-Rosas, S. A., Torres, A., Saxena, M., Julin, M., & Tinoco, A. D. (2019). Fueling a Hot Debate on the Application of TiO2 Nanoparticles in Sunscreen. Materials, 12(14), 2317.

Suh, S., Pham, C., Smith, J., & Mesinkovska, N. A. (2020). The banned sunscreen ingredients and their impact on human health: a systematic review. International Journal of Dermatology, 59(9), 1033-1042.