My back of the napkin calculation tells me we each use around 400 tubes of toothpaste in our lifetimes, at least for those of us with the privilege of brushing twice per day.
It's a concerning number considering toothpaste tubes are generally made from plastic and are difficult, if not impossible to recycle.
Given that 300 million tubes of toothpaste go into landfills each year in the UK alone, we desperately need alternative sustainable toothpaste options and we need them urgently.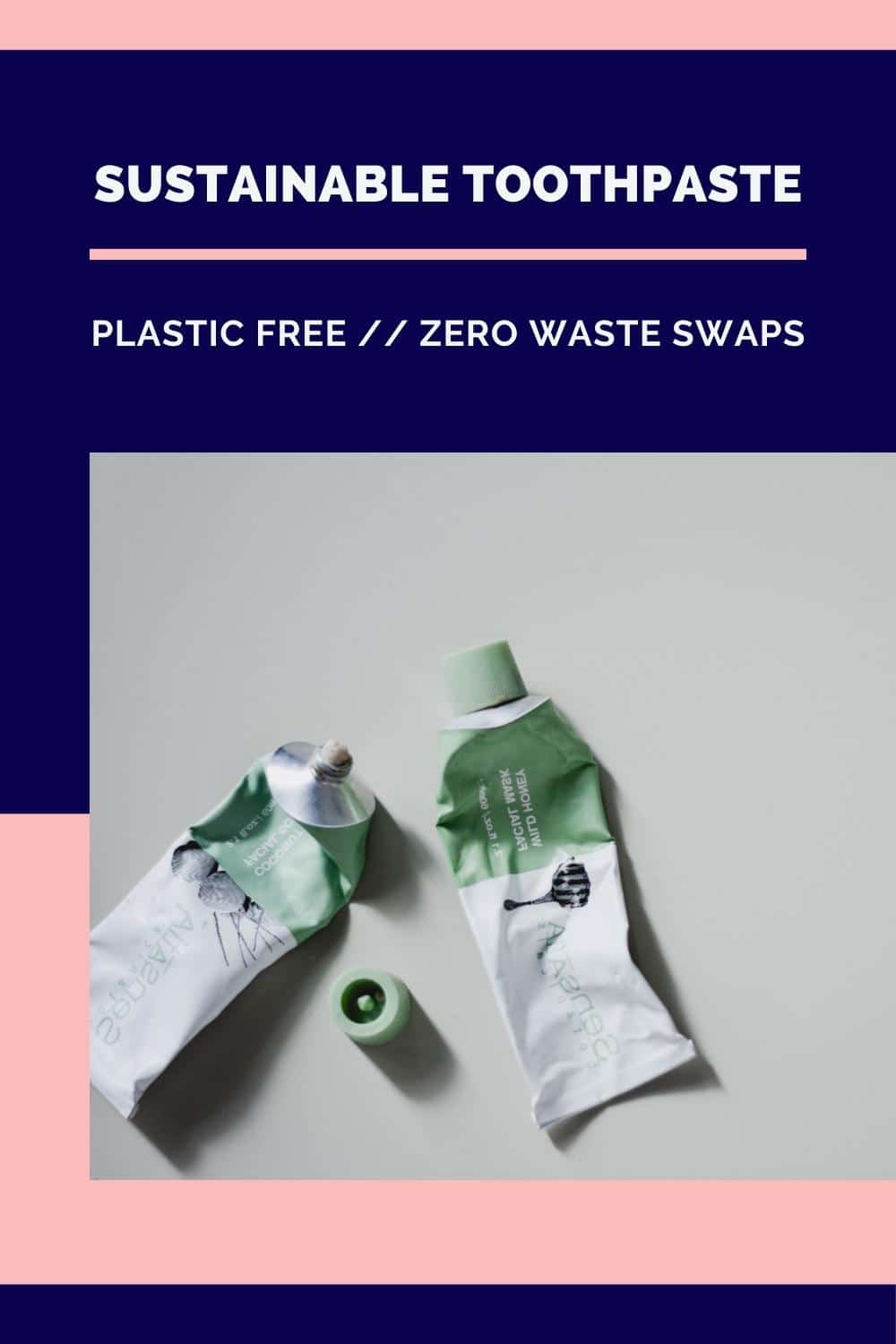 Before plastic toothpaste tubes became widespread, toothpaste typically came in plain aluminium packaging.
Of course, plastic toothpaste tubes are cheaper to produce and more convenient which led to their preference over aluminium.
However, with the growing movement to be plastic-free and zero waste, we are now seeing a return of aluminium toothpaste packing.
Sustainable Toothpaste
Aluminium is considered to be eco-friendly in that it can be recycled relatively easily and repeatedly.
However, the mining and processing of bauxite to produce aluminium have a negative environmental impact.
Additionally, new aluminium tubes often have plastic caps and threads which can't be recycled and unused toothpaste residue can also be problematic when recycling.
So there are pros and cons of aluminium packaging. No one said going zero waste was going to be easy.
Personally, I think aluminium packaging is one of most sustainable options at this point in time but toothpaste tablets are also worth trying.
I feel like tablets do take a bit of getting used so I'm not sure we will see a huge shift towards them but they are generally completely zero waste. It really depends on what's available near you and your priorities.
If you want to go with toothpaste tablets, there are a number of brands that offer zero waste tablets which are packaged in either glass jars or cardboard tubes.
Top Pick
GloBoid Zero Waste Toothpaste Tablets*
These tablets are eco-friendly, plastic-free and zero waste as they are packaged in a recyclable cardboard tube. Of course, they are cruelty-free, vegan and effective too. This is an extremely popular zero waste brand and if you have any questions about the product you can read the reviews and the owner's replies. Choose from the regular mint or get the charcoal and mint.
Twice*
If would prefer to use regular toothpaste instead of tablets but still want a recyclable product, Twice is growing in popularity. It's an effective fluoride toothpaste that comes in a completely recyclable tube and cap. While it is recyclable, the packaging is made from plastic. Twice comes in a number of different flavours including spearmint eucalyptus. With respect to social sustainability, Twice donates 10% of profits to funding oral care around the world.
Pure Earth Fluoridated Toothpaste Tablets*
Made in the UK, these sustainable toothpaste tablets are an alternative to our top pick as they are very similar. You basically chew the tablets briefly until it starts to foam and then you brush your teeth as per usual. The main difference with this brand is it comes in a 100% recyclable paper bag instead of a tube. This is ideal if you prefer to store the tablets in your own glass jar once opened.
Fluoride Free Toothpaste
When considering alternatives to conventional toothpaste, it's important to not only think about reducing waste but the effectiveness of the product.
Some toothpaste alternatives do not contain fluoride and therefore may not offer the same level of protection against cavities compared to fluoridated toothpaste.
Fluoride toothpaste is proven to prevent dental cavities.
However, fluoride-free toothpaste such as David's Natural Toothpaste* has become more popular in recent years due to unsubstantiated claims regarding the health impacts of fluoride.
But there is limited research regarding the efficacy of fluoride-free toothpaste. Alternatives like green tea and probiotics toothpaste are being promoted as alternatives but the efficacy and the quality of research are limited.
The health issue concerning fluoride toothpaste came about in relation to the potential risk to children (up to 6 years of age) who may inadvertently swallow toothpaste when brushing. In rare circumstances, it can lead to toxicity.
There isn't the same concern with older children or adults.
This article is part of our series on sustainable living and conscious consumerism. Our guide to choosing sustainable products provides further ideas on where to reduce your environmental impact when purchasing essential items.
Oral Health
Having said that, I am not a dentist or a medical professional. Please speak to your dentist if you have any concerns about swapping to a zero waste toothpaste, especially if you are thinking about switching to a product without fluoride.
In my opinion, the better alternative to toothpaste in plastic tubes is fluoridated toothpaste tablets or fully recyclable aluminium packaging.
These are available in eco-friendly, often biodegradable bags as well as glass jars and recyclable boxes.
I know there is a trend in some circles to avoid fluoride but again, I suggest you speak to your dentist before doing this.
It's not easy switching to sustainable toothpaste purely because they are often so different to what we are used to, especially the tablets.
They are a bit odd to use at first but I think it's worth persisting with or at least trying a couple of brands until you find the one you like the best.
These zero waste swaps do seem to be a small change in the grand scheme of things but I'm a firm believer in every small change adding to up to something substantial, especially if you have already made more significant changes to your lifestyle which reduce your climate and environmental impact.