I must admit to being a late convert to yoga. Back when I was travelling a lot I would take the occasional class but I wasn't serious about it. It was only about 5 years ago when I stopped travelling that I had the time and space to workout at home and get my own equipment. Of course, the first thing I got was a sustainable yoga mat.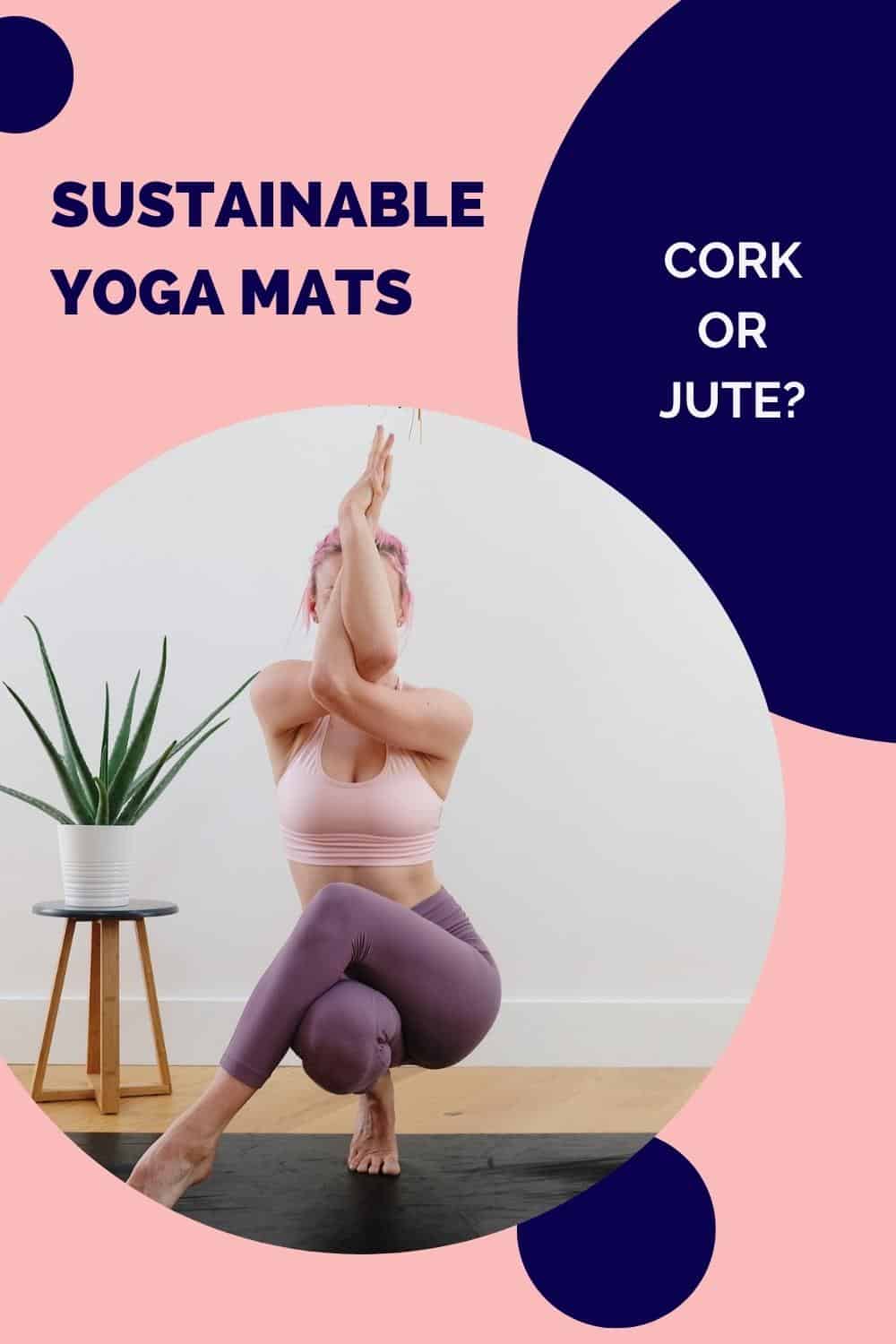 There weren't so many sustainable options back then but now the market has boomed and there are loads to choose from. I use a cork mat that has a sustainably sourced rubber backing.
I admit I was surprised when I first saw cork used in this way but now they are the most popular and best kinds of yoga mats if sustainability is important to you.
Sustainable Yoga Mats
What makes a yoga mat sustainable? There are several features you should look out for. The most important being from a carbon neutral company that uses sustainably sourced materials that are recyclable.
Carbon neutral – A carbon neutral company is one that actively works to reduce its emissions as much as possible and then offsets the rest of its emissions through projects like tree planting. Emissions and offsets should be measured, reported and verified by a third party that can then issue certification. This is an essential component of sustainability.
Cork material – Cork is one of the most commonly used materials in sustainable yoga mats and accessories. It's a preferred material as it's plant-based and completely renewable, recyclable and biodegradable.
Jute material – Another eco-friendly material is jute, a plant-based natural fibre that is generally grown without the use of fertilisers and pesticides. Jute textiles are 100% recyclable and biodegradable.
Natural rubber – Rubber production can be sustainable although it often isn't. It's often associated with deforestation, human rights violations and corruption. However, tree-derived rubber is sustainable in the sense that the trees are tapped and not cut down for production and so they continue to produce while also being an important store of carbon. Natural rubber is often used on the flipside of cork yoga mats which is fine if it's sustainably sourced and manufactured.
Recyclable – Cork, jute and natural rubber are all recyclable and biodegradable.
Top Pick
Ananday Cork Yoga Mat*
Ananday is one of the few yoga mat brands that are certified carbon neutral. They keep their carbon emissions low and offset the rest through the Trees for the Future project.
The Ananday cork yoga mat is a non-slip mat, ideal for hot yoga but really any kind of yoga, pilates and stretch work.
If you've never tried a cork mat before, they have a natural, organic texture that is firm but gives a little. On these mats, the backing is natural rubber for extra thickness and padding.
The mat is 100% recyclable and biodegradable, 10 trees are planted for every mat and their packaging, labels, tape and padding are plastic free, zero waste and compostable.
Why Ananday over other brands? Ananday focuses on sustainability in all aspects of its production. Unlike some brands, they don't just have a single line of eco-friendly yoga mats, their entire range of products and packaging is eco-friendly.
Of course, the yoga mats are excellent quality too and fit for purpose in every way. As a small business, they might not have the same number of reviews as the major retailers but they are highly rated and well respected in the industry.
Jute Yoga Mats
If you're looking for an alternative to cork, jute yoga mats are the next best thing. It's a very different experience to work out on this kind of fabric mat but it's a good option once you get used to it.
I recently purchased a jute mat to use outdoors and I like it. It's sturdy and non-slip. It works particularly well as a travel yoga mat because you can fold it if you need to store it in a suitcase for example or if you want to carry it in a bag to use after work. Ananday has a thin, lightweight jute* yoga mat that is perfect for travel.
Jade Yoga Fusion Mat*
Jade Yoga is the major brand in the sustainable yoga space and they specialise in jute mats. They produce several different types of mats including the Fusion mat which is a thick yoga mat for extra cushioning. These are quality mats that will last you for years. The mats are lined with non-Amazon natural rubber and the mats are produced locally in the US. They also work with Trees for the Future and plant one tree per mat sold. Jade Yoga is a small business that donates to several local charities.
Final Alternative
Satori Concept Cork Yoga Mat*
I think the Ananday is the best yoga mat but if you're looking for something a bit more unique, you could try the cork mats from Satori Concept. They are very similar to Ananday but they come in some beautiful designs that I've never seen elsewhere. Their mats are made from sustainable cork and recycled rubber. They offer a 100% moneyback guarantee so you can return it if you don't like it.
Promoting Sustainability in Yoga and Pilates
While each of us is in control of our purchases, we can further promote sustainability by encouraging others to do the same.
We can do this through open discussions with our family and friends but also with the studios and gyms we frequent.
Gyms often have the cheapest yoga mats that use poor quality, unsustainable materials that contain plastic and toxic chemicals. Suggesting the switch to non-toxic yoga mats can make a difference on a larger scale than simply purchasing well for yourself.
This guide is part of our series on sustainable products for the home. As always, we suggest only buying what you really need and only replacing your old yoga mat when it is beyond repair.